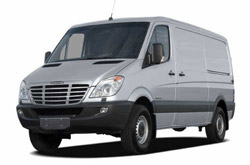 Full Services on Sprinters
German Master Tech is an independent, German-trained Sprinter Repair Center. If your business is directly related to smooth vehicle operation, the issue that affects your bottom line is vehicle quality and reliability. That's why they have trained Sprinter Technicians dedicated to you, the small business owner, to ensure that you are back on the job as quickly as possible.
Currently serving 200+ Sprinter customers across the Southeast, our expert knowledge will ensure your Sprinter is serviced and repaired in a manner that exceeds standards.
Sprinter Van Services include:
Full Service Sprinter Repair
Sprinter Minor Body Work
Full Line of Sprinter Conversions and Customization